Historical
After a number of attempts the British Army finally standardized the sword carried by Infantry officers with a specific pattern. The issued order called for:
"The sword to have a brass guard, pommel and shell, gilt with gold; with grip or handle, of silver twisted wire. The blade to be straight and made to cut and thrust; to be one inch at least broad at the shoulder and 32 inches in length."
This sword was quickly adopted and was universal amongst line infantry officers by 1800. Even though regulations stated the size of blade, there were numerous deviations. Some blades of surviving originals have an almost rapier type blade. The original used in the manufacture of this reproduction, along with the number of other examples studied, had a blade length of 31 1/2 inches and one inch in width at the shoulder. The blade is engraved with the royal cypher along with various foliage and trophies. Historically there appears to be no set approach to the choice of engraved objects on the blade from one sword to another.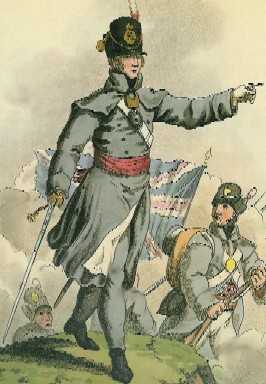 British officer in Winter dress with 1796 sword drawn
As the regulations described, this reproduction has a silver wire wrapped grip and a folding shell guard with spring. The urn shaped pommel and graceful D-guard completes this relic of an age of elegance.
The brass and black leather scabbard is designed for a frog mounting with a shoulder belt. A staff pattern of this sword had a steel scabbard with ring attachments. This scabbard is not offered. Total length of the sword without scabbard is 37 inches.
We hope to add the drill for this in the not too distant future. It may be of interest to point on the sword used in the animated graphic of our sword section is the 1796 Infantry sword. See the Graphic here.