Share


British Army - Royal Air Force - Royal Navy - French Napoleonic - United States
"No Sword can be properly regarded as complete without its appropriate knot"
- Sword historian B. Robson from his definitive work: Swords of the British Army
Recently there has been a demand for good quality sword knots from collectors, museums, and quality reenactors. By and large the sword knots available to reenactors resemble curtain tassels then historic sword knots. Sword collectors know all-too-well how few original sword knots appear for sale. To answer this need, we have brought together the largest collection of sword knots anywhere. After studying a number of originals knots in museums and collections throughout Britain, France and North America, the following knots are the result.

All our sword knots are made from superior materials woven in France and are of spectacular quality backed with a money-back guarantee.
British Army
Infantry and Artillery Officer pattern 1747-1812 99.00US (99.00CAN) KNT008

This knot was probably the most famous of officer's knots. It was made with fringe or light bullion and was still used up to the War of 1812. However heavier bullions, like on the next knot, seemed to have been preferred by field officers as early as the American Revolution.

Infantry and Artillery Officer pattern 1790 -1857 49.50US (49.50CAN) KNT023 This knot is very similar to the above knot, except the bullions become larger and the top of the tassel becomes hour glass shape. Evidence shows it being used as early as 1790 with some officers. It may have been used earlier. Surprising it was not officially recognized as a pattern until 1822 although it was dominant from about 1812. The constants are the three crimson lines on its gold strap. Was also used as the undress knot for the life guards and the horse guards (1796-1822). In addition Royal Artillery officers also used this knot up to 1857.

British Infantry Sword Knot 1857-1950 57.50US(57.50CAN) KNT022 In 1857 the bullion tassel gave way to the gold acorn.

British Cavalry Buff Leather Sword Knot 1796-1822 79.00US (79.00CAN) KNT009

This is the trooper's knot. The strap measures 1/2 inch in diameter, however there are original examples of 1 inch in diameter (French adaptation). This knot evolved into one with a brass button adjustment after 1822. Interestingly enough some infantry officers adopted this style (62nd Regiment for example) because of its more practical nature. The 62nd had their coloured to a buff (yellow ocre pipe-clay mixture). This can be done for an additional 10.50US (11.50CAN).

Gold Cord with Acorn Tassel Sword Knot 45.00US (45.00CAN) KNT010. This pattern saw extensive use in the Light Dragoons 1831-1860 and in the Foot Guards from 1855 to 1945. It is the perfect companion with the 1822 Light Cavalry Sword on our sword page; a sword made famous by the Charge of the Light Brigade. In addition, it was used by the Royal Engineers from 1857 to 1945, including a certain engineer commanding Rorke's Drift in the Zulu conflict. 1822 Light Cavalry Sabre with Knot

White Leather Knot with Gold Acorn 49.00US (49.00CAN)KNT011. This knot was and still is the undress knot for the Foot Guards, beginning in 1883. It was also adopted by most of the Heavy Cavalry from 1883 on as did the Infantry as their undress knot from 1874 onward. Detail Image

Crimson and Gold Cord and All Gold Acorn Knot 69.50US (69.50CAN) KNT014. The first unit to use this combination was the Lancers (1822-1945). The Hussar regiments took this up from 1883 onwards. (A special order item.) 1822 Light Cavalry Sabre with Knot

Buff Leather and Gold Tassel with Crimson Centre 69.50US (69.50CAN) KNT013. This knot was used by various cavalry units at various times. The 1st Life Guards used on and off throughout it history (1796 -1822, 1831-1857, 1872-1945). The Heavy Cavalry used it from 1822 to 1883. T Image of detail

Crimson and Gold Cord and Acorn Knot 45.00US (45.00CAN) KNT012. This knot is appropriate for General Officer's swords from 1831 to 1945, and Hussars, 1831-1883 (again the famous Charge of the Light Brigade). Image of detail

Rifle Regiment Black Leather Strap and Acorn.

39.00US (39.00CAN) KNT016 It has been debated that was used as early as the formation of the Rifle Corps. Whether this is the case is uncertain. Any rifle pattern sword into the 20th century had this knot it.

Universal Field Service Brown Leather Strap and Acorn. 39.00US (39.00CAN) KNT015. Adopted in 1899, this knot saw extensive service in the trenches of WWI and is still used today. This knot went especially with the field brown scabbard. Image of detail

Royal Air Force


Royal Air Force Strap Knot 45.00US (45.00CAN) KNT024

.

Air Force Cord Knot 45.00US (45.00CAN) KNT025

.
Royal Navy
French Napoleonic Sword Knots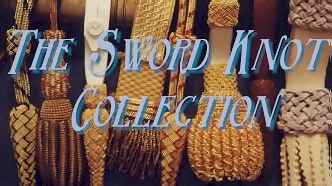 © Copyright 1995-2019: Unless otherwise noted, all information, images, data contained within this website is protected by copyright under international law. Any unauthorized use of material contained here is strictly forbidden. All rights reserved. Access Heritage Inc (formerly The Discriminating General) is in no way to be held accountable for the use of any content on this website. See Conditions of Use.