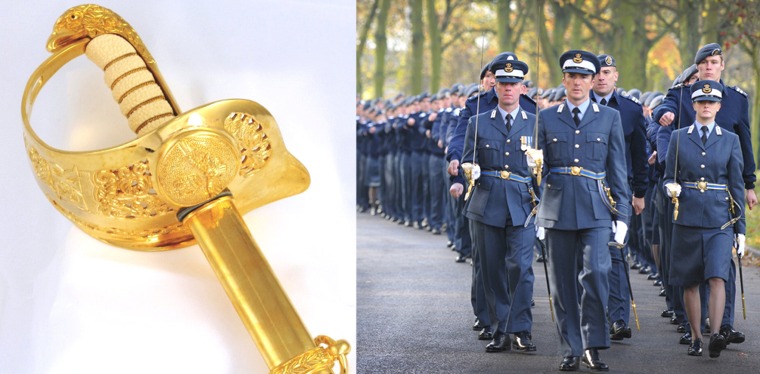 *Pilots were first called "knights of the air" by LT Bennett A. Molter in his 1918 treatise on aviation.
LT Molter also viewed air warfare in WW1 as " chivalry above the clouds". Knighthood requires a sword.
The question that every RAF and Royal Canadian Air Force officer always ask: "Why are Royal Air Force swords so expensive?" It is a good question. After all American and French pattern air force swords are just as complex as as the Commonwealth pattern, but cost a fraction of the price. Air Force officers with a Queen's commission deserve the same treatment. We have answered the call with this beautiful current pattern (ERII) sword.

Blade: Made of AISI 1055 High Carbon tempered Steel which matches the sealed pattern. Why not stainless steel? High Carbon steel has a tensile strength like fighting swords whereas stainless steel is brittle and tends to shatter when struck with force. Therefore if the swords, for example, are used in fencing demonstrations they are designed to withstand reasonable contact with objects. The image above shows the etching detail.

Guard: As the above close up attests, the hilt is beautifully gilded with 18kt Gold, and will dazzle the eyes of spectators. The ER II Royal cypher is beautifully etched.
Grip: In January 2006 the stingray was added to the endangered species list of the OSES. Being good environmental stewards we have chosen imitation white grip instead of ray skin. There is also practical reasons for this decision. Objects made from endangered animals do not flow freely through borders and this may become problematic in the future when an officer is deployed abroad. In addition imitation grips are longer lasting. It is the safe choice. It is the right choice.
Scabbard: A black leather scabbard with elegantly crafted gilt fittings finishes the sword. Please note: it is included in the price of the sword. Not including a scabbard in the price of a sword is simply bad taste.


Click to Enlarge above Images
_____________________