Historical
by Robert Henderson
The number of variations of sword patterns used by the American Military forces around the War of 1812 is mind boggling. British and French pattern were used extensively with little regard for the service the officer was part of. While regulations attempted to create sword uniformity, market forces created a mixed bag of patterns. With regards to swords with eagle head pommels, the different interpretations of the noble national bird seem endless. The eagle on some swords have: (1) its beak turned down, or (2) open, or (3) open with tongue, or (4) closed peering upward. The "cut and thrust" sword offered here was popular with the US Artillery, U.S. Navy, and various Militia units.

US Artillery Lieutenant Porter Hanks original sword, 1812 (Fort Mackinac State Park)
Design
While the five-ball pattern hilt faded from fashion in England and France in the 1790s, it remained popular in the United States. The original this reproduction was designed after was originally made by Davis & Brown Cutlers from Boston. Obviously Boston's naval officers and privateers would have been part that firm's client base.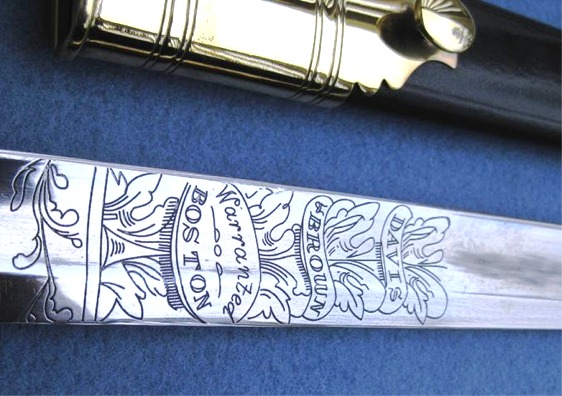 Like all of our swords, the hand forged blade is made of superior AISI 1055 high carbon steel. With our usual attention to detail, we have marked the sword with the same makers mark as the original we work from.
Blade Length: 79 cm / 31 inches
Overall Length: 95 cm / 37 1/2 inches
Scabbard: hand sewn leather with brass hardware - stud and ring combo mount system
Steel: AISI 1055 High Carbon