Historical
by Robert Henderson
When the Royal Artillerymen were in garrison they possessed possessed two orders of equipment: (1) a sword and belt while serving the gun, and (2) crossbelts, bayonet and musket when not. Arming artillerymen with muskets and bayonets was a common practice because they were expected to serve sentry duty over ordnance stores and, in extreme circumstances, act as infantry. Carrying two sets of equipment into the field at the opening of the Peninsular War proved impractical. Illustrations show they were first sent without swords. As their job was primarily to fire artillery, a bayonet dangling at their side when attacked by enemy cavalry provided little protection. As a result after about 1811, gunners in battle are illustrated only wearing their swords and their crossbelts and pouches were no longer being used.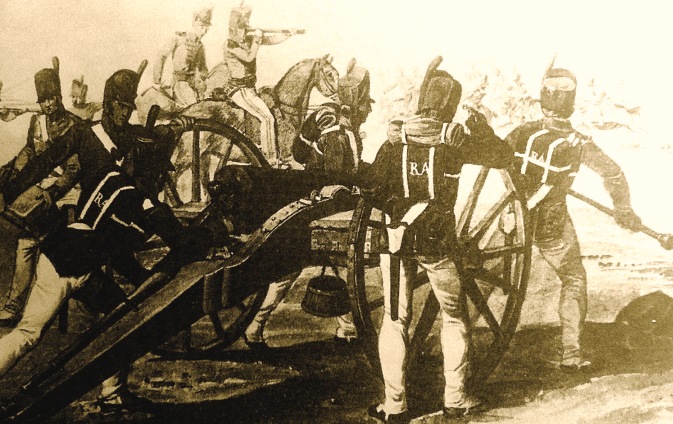 Royal Artillery Gun Crew, 1813. Note all the Gunners have only swords. No pouches.
At the opening of the War of 1812 in North America, Royal Artillery in garrison gave up their crossbelts for completely different reasons. Because of equipment shortages for the militia, all Royal Artillerymen were ordered on July 17, 1812 to "due duty with swords and are to deliver into the Ordnance Store the Arms & Accoutrements in possession of the Corps." Gunners must have been happy with this order because it meant they no longer were expected to do sentry duty. War Office records show swords being immediately issued out to companies deficient in them. It is presumed embodied and sedentary militia Artillery in Canada were also issued with swords because by the end of 1812 there were requests to London for more.
Paintings by George Jones of the Battle of Waterloo in 1815 show dead Royal Artillerymen again only with their swords and sword belt. It appears the lessons learned in the Peninsular War carried over into the deployment of the Royal Artillery to Belgium.
Design
Past historians have often erroneously referred to this Artillery sword as a copy of a French sabre briquet. It is more accurate to say its design was inspired by the leather-gripped French Imperial Guard infantry sword. However the hilt's languets, and length/width/straightness of the blade make the Royal Artillery sword unique. Interestingly enough, the hilt of this sword was then copied by the United States and, with a curved blade served as the trooper's sabre of the US Light Artillery in the War of 1812.
To reproduce this sword we worked from a number of original examples including one from the Parks Canada Collection: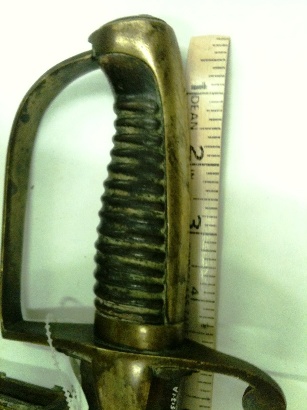 Royal Artillery Sword in Parks Canada Collection. (photo: R Henderson)
Like all of our swords, the hand forged blade is made of superior AISI 1055 high carbon steel. With our usual attention to detail, we have marked the sword with the same makers mark as the origiinal we work from. The markings are DAWES BIRMM which is for the sword maker William and Samuel Dawes of Birmingham. See the markings here.
Blade Length: 63.5 cm / 25 inches
Overall Length: 79 cm / 31 inches
Scabbard: hand sewn leather with brass throat and chape - stud mount system
Steel: AISI 1055 High Carbon