Share
British Army Cartridge Box or Pouch
1777 Rawle's Pattern
American Revolution - Napoleonic - War of 1812
Cartridge Pouch (ACC-005) Price: Product Presently Unavailable

---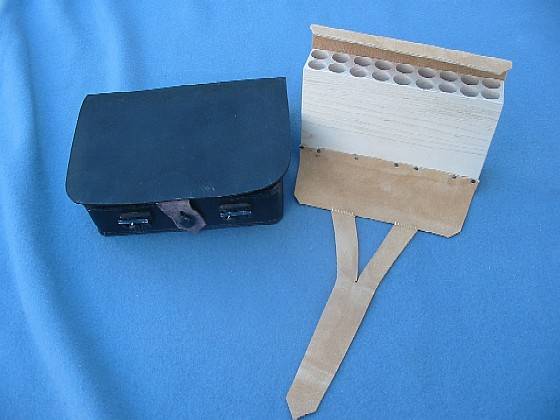 This 36-round reversible-block cartridge pouch is copied from an original in the Canadian War Museum. Attention to detail has been key in the reproducing of this item. The pouch flap is rough-side-out and the tab has been blind stitched. Inside the original the flap has been left natural, so too with our replica.
Missing from the original is the hand woven leather button which has been recreated from another surviving example. The original studied had a block made of maple, like our reproduction, and the block's leather flaps were made of doeskin.
The entire pouch is handmade including the buckles. On the over 200-year-old original the linen stitching seems to have been turned to its whitish look. However on careful examination of the non- exposed areas, the stitches is blackened by either blacking ball, or blacking mixed in the threads while it was being sewn. Therefore all of the stitching on the original has been done in black.
Historical
This style of pouch was used during the American Revolution along with a couple of other styles of cartridge boxes. It is commonly referred to the 1777 Pattern "Rawle Pouch" because of a patent on its design by that supplier to the British Army (the Patent itself encompasses a number of other pouch designs as well) . In 1784 a new pattern was introduced into the British Army. However this pattern slowly fell out of favour, and the 36 round pouch made a come back in the late 1790s. Why a resurgence is not quite known. It is possible the Rawle's patent expired allowing the Army to have them made more inexpensively. Regimental inspection returns show some regiments still carrying them in 1812. This is surprising because a new 60 round pouch was approved for the army in 1804. Obviously the army tradition of wearing items until they feel apart continued and it wasn't until 1813 that all the regiments got the new pouch and this pouch finally disappeared.
Please note: This pouch closes with the proper leather button system. The use of a brass stud in approved British Army pouches did not happen until 1817.
- Click Here for FAX Order Form -
- How to Contact Us -

---
Militaryheritage.com Sites:
Seven Years War Website Napoleonic Wars Collection Military Heritage Magazine
Military Music Sound Clip Gallery Home of Access Heritage Inc (formerly The Discriminating General)
---
Our Products and Services:

Our Mission and Clients Product Index Heritage Film Services Seven Years War Replicas
American Rev Replicas Napoleonic Wars Replicas French Nap. Headdress
British Army,1793-1815 British Army, 1816-1856 Military Buttons Military Belt Plates
Swords Sword Knots Military Drums Additional Products...
---
© © Copyright 1995-2019: Unless otherwise noted, all information, images, data contained within this website is protected by copyright under international law. Any unauthorized use of material contained here is strictly forbidden. All rights reserved. Access Heritage Inc (formerly The Discriminating General) is in no way to be held accountable for the use of any content on this website. See Conditions of Use.