Share
British Army Cartridge Pouch, Belt and Waistbelt 1740s -1768
French and Indian War - American Revolution
PRESENTLY SOLD OUT
1. Cartridge Pouch and Belt:

135.000US

139.00CAN
Item Code: ACC-008
2. Waistbelt and Double Frog:

75.000US

78.00CAN
Item Code: ACC-009
Complete Set:

185.00US

189.00CAN
Item Code: ACC-010
MAXIMUM WAIST SIZE 44 inches
---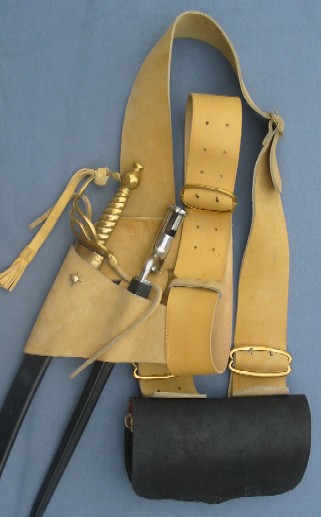 (sword, sword knot, and bayonet not included)
Now finally available is an accurate recreation of a set of British Infantry belts from the Seven Years War. The waistbelt is based on the only known surviving original, located in a small County Museum in England. The pouch and belt was designed after an original in a private collection. Together they complete an important part of the puzzle of what the British soldier wore during the time of the French and Indian War.
The first striking element one notices when looking at these belts is their buff colour created by the nature of the leather and enhanced by applications of pipe clay and ochre. The cartridge box or block is designed to hold 21 rounds and sits in a soft leather pouch. The flap of the cartridge pouch is made rough side out while the interior leather is smooth side out. The pouch is suspended from two straps with brass double-D buckles. It was common at this time to suspend the soldier's pick and whisk from the front buckle or or from the front pouch buckle. This practice carried on into the Napoleonic period, depending on the regiment.
The beauty is always in the detail. A unique quality of the waistbelt is the extensive blind stitching of the frog. The wide curve of the frog itself assisted in protecting the soldier's clothing from the rubbing of the sword. The length of the waistbelt itself allowed the soldier to wear the belt over his shoulder while on the march.
While this pattern of belting was made obsolete in 1768, it is likely saw service with Loyalist Regiments and the Continental Army at the beginning of the American Revolution.
Other Images: Image 1 Image 2 Image 3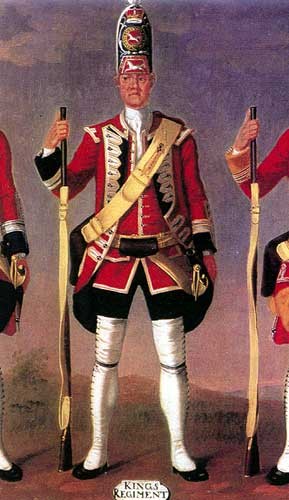 8th Regiment Grenadier, 1751. Notice the ochre coloured belts
- Click Here for FAX Order Form -
- How to Contact Us -

---
Militaryheritage.com Sites:
Seven Years War Website Napoleonic Wars Collection Military Heritage Magazine
Military Music Sound Clip Gallery Home of Access Heritage Inc (formerly The Discriminating General)
---
Our Products and Services:

Our Mission and Clients Product Index Heritage Film Services Seven Years War Replicas
American Rev Replicas Napoleonic Wars Replicas French Nap. Headdress
British Army,1793-1815 British Army, 1816-1856 Military Buttons Military Belt Plates
Swords Sword Knots Military Drums Additional Products...
---
© Copyright 1995-2019: Unless otherwise noted, all information, images, data contained within this website is protected by copyright under international law. Any unauthorized use of material contained here is strictly forbidden. All rights reserved. Access Heritage Inc (formerly The Discriminating General) is in no way to be held accountable for the use of any content on this website. See Conditions of Use.