Share
Scottish Highland Broadsword 1798-1828
Egypt - Trafalgar - Peninsular War - War of 1812 - Waterloo


Sword (including Scabbard):
SALE
249.00CAD
199.00USD

Item Code: SWD098
Limited Quantities. ONLY Available Here.

Adopted in 1798, this is the broadsword used by the Scottish Highland Officers, Sergeants, Drummers, and Pipers throughout the Napoleonic Wars including the Battle of Waterloo. Strangely, before now, this broadsword had never been reproduced! With the introduction of this new pattern in 1798, a highland broadsword exercise was also published to assist in training: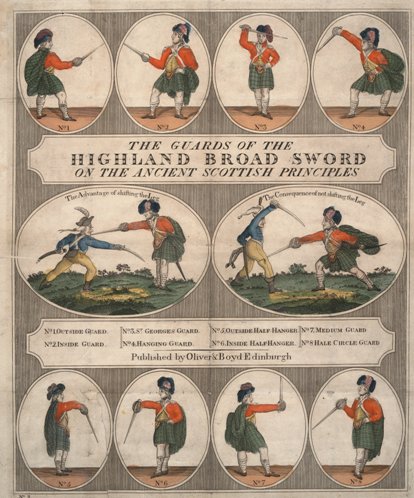 The smooth brass hilt was the unique element to this design, which provided needed protection and a reduced weight. Some regiments took advantage of the flat surface and had their regimental insignia engraved on it. The following images are of two officers carrying the 1798 pattern broadsword: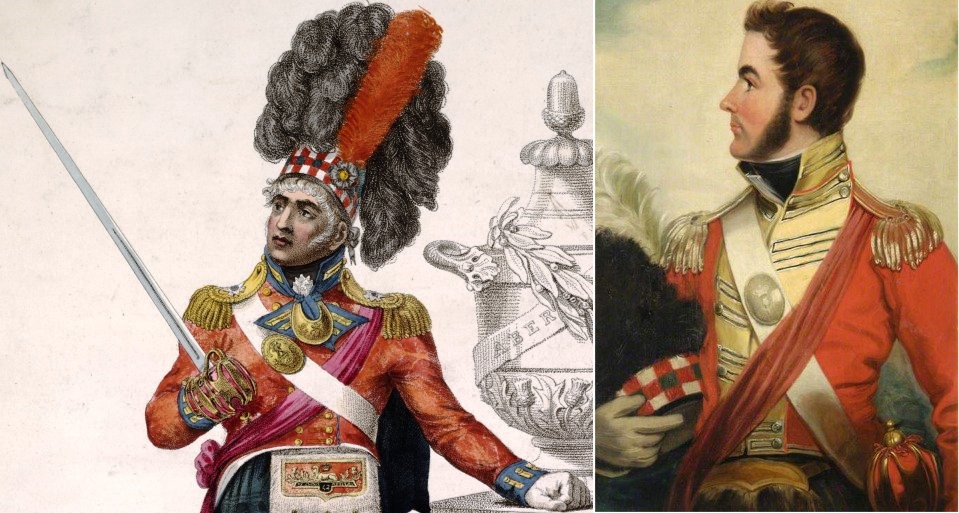 An officer of the 42nd Royal Highlanders in c1801 (left) and 92nd Highland Regiment officer in c1816.
Surprisingly there is evidence that some Scottish Royal Navy officers used this sword as well. For example, Lord William Napier wore this sword at the Battle of Trafalgar, while serving on the HMS Defence. On the scabbard of the original it is engraved with the naval expression "READY AY[e] READY"
The sword we reproduced here was designed after an original in the National reserve collection of Parks Canada. The brass hilt measurements match that of the original examined. However it is a smaller basket than typical broadsword and is best suited for a medium or small sized hand. The blade is made of superior 1055 high carbon steel and has a single fuller. The pictures below show the elegant nature of this sword.
Overall Length: 38 inches (97 cm)
Blade Length: 32 inches (81.5 cm)
Sword without Scabbard Weight: 2.5 lbs (1.2kg)
Grip Length: 3 7/8 inches (9.5 cm)
Click On Images:

The 42nd Black Watch at the Battle of Quatre Bras just before the Battle of Waterloo, 1815 by William Barnes Wollen

Shipping Information... .

Destination

Shipping Time

Shipping Service

Shipping (One Sword)

Canada

1 - 7 business days

UPS Standard

29.00CAD

United States
(excluding Hawaii and Alaska)

4 - 7 business days

UPS Standard

29.00US

*United Kingdom

7 - 10 business days

UPS Expedited

89.00US

*Western and Northern Europe

7- 10 business days

UPS Expedited

99.00US

*Eastern Europe (Poland, Czech R., Slovak R., Hungary)

7-10 business days

Inquire

Inquire

Other (Australia, New Zealand, Malta, etc)

Inquire

Inquire

Click here for exchange rates of $CAN against most major currencies.

Shipping times are after your order has been processed.
*$US prices for US residents only. All other country clients are charged in Canadian Dollars.
*There are some remote territories of countries that have an additional shipping fee (client notified if an issue)
UPS (United Parcel Service) is a package courier: ups.com

Taxes, Duties, Restrictions, etc... For Canadian residents please add GST or HST (if applicable to your province). For United States residents there is no duty, restrictions, brokerage fees, or taxes on your sword orders when shipped through UPS.

All countries with shipping rates listed above can import our swords into their country (however there may be taxes and customs fees to pay). Other International clients please contact your customs department to determine fees, taxes, and restrictions. When inquiring to your government please note that the sword you wish to import is a historic replica and has no sharp edges. We have shipped our swords to over 18 different countries.
- -
- How to Contact Us -
---
Militaryheritage.com Sites:
Seven Years War Website Napoleonic Wars Collection Military Heritage Magazine
Military Music Sound Clip Gallery Home of Access Heritage Inc (formerly The Discriminating General)
---
Our Products and Services:

Our Mission and Clients Product Index Heritage Film Services Seven Years War Replicas
American Rev Replicas Napoleonic Wars Replicas French Nap. Headdress
British Army,1793-1815 British Army, 1816-1856 Military Buttons Military Belt Plates
Swords and Sabres Sword Knots Military Drums Additional Products...
---

© Copyright 1995-2019: Unless otherwise noted, all information, images, data contained within this website is protected by copyright under international law. Any unauthorized use of material contained here is strictly forbidden. All rights reserved. Access Heritage Inc (formerly The Discriminating General) is in no way to be held accountable for the use of any content on this website. See Conditions of Use.