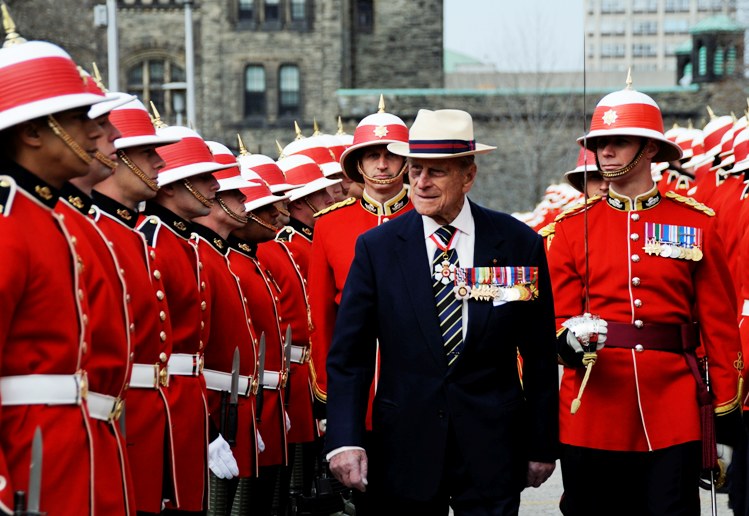 2013 News: We are honoured to provide swords to the officers of 3/RCR for the presentation of their
new colours at Queen's Park by HRH Prince Philip, Duke of Edinburgh (photo credit: DND).
2014 News: The 1st Battalion of the RCR and the 32 Signal Regiment have both taken
advantage of our group discount plan. (359.00 each when 10 or more are ordered).
The question that every British Commonwealth Infantry Officer always asks: "Why are Infantry Pattern swords so expensive?" It is a good question. After all American and French pattern military swords can be just as complex as British Commonwealth ones, but cost a fraction of the price. Finally we have an answer to this question with our new sword. With the assistance of the Department of Defence (who loaned us a sealed pattern sword) we have produced a quality infantry sword that is also affordable. This is our way to say "thank you" to the Infantry officers who have put themselves in harms way for us.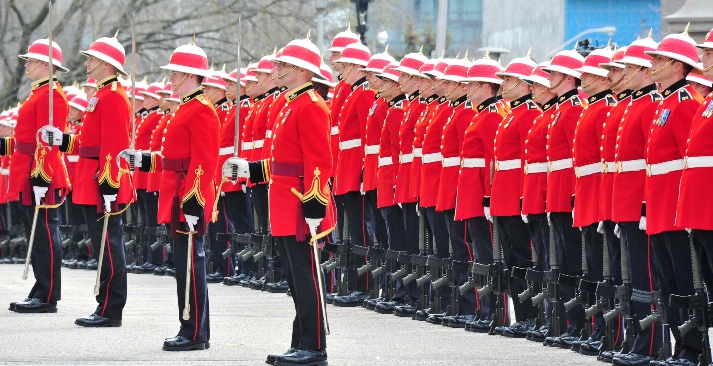 3/RCR at Queen's Park (photo credit: DND).
Blade: Made of AISI 1055 High Carbon tempered Steel which matches the sealed pattern. Why not stainless steel? High Carbon steel has a tensile strength like fighting swords whereas stainless steel is brittle and tends to shatter when struck with force. Therefore if the swords, for example, are used in fencing demonstrations they are designed to withstand reasonable contact with objects. The blades are acid etched with Infantry Pattern markings including the ER II Royal Cypher.
Guard: 1897 pattern pierced steel with bright nickel plating. The ER II Royal cypher is beautifully etched as the images attest. Initially we used the 1897 nickel finish but have since made it significantly brighter to the satisfaction of military personnel.
Grip: The sealed pattern we worked from has an imitation pattern ray skin grip. In January 2006 the stingray was added to the endangered species list of the OSES. Being good environmental stewards we have chosen imitation grip instead of ray or shark skin. There is also practical reasons for this decision. Objects made from endangered animals do not flow freely through borders and this may become problematic in the future when an officer is deployed abroad. In addition imitation grips are longer lasting. It is the safe choice. It is the right choice. See the grip by clicking here.
Scabbard: Each two ring steel scabbard is hand finished and brightly nickel plated. In addition it is included in the price of the sword. Not including a scabbard in the price of a sword is simply bad taste.
_____________________

Detailed Images: Aren't you tired of companies wanting to charge you over $1000.00 or EUR 750,00 for a sword and offer you only tiny images to judge the quality.
Here are some images to help rectify this wrong: Image Image Image
___________________
Try our Sword Accessories. Same quality as the Competition but at better prices.
Our Sword Bags and Sword Belts can be found by clicking here.
Our Sword Knots can be found by clicking here.