Share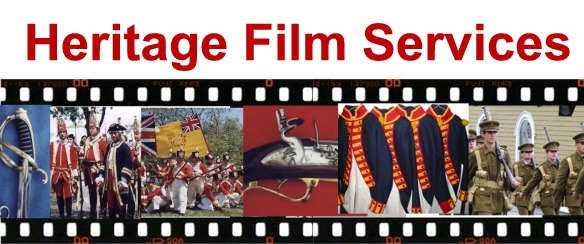 Screen Credits and Contributions Products and Services
Every successful Producer and Director knows....
....when selecting an adviser or consultant you do not hire a person, you acquire a network of knowledge and resources. All our team members bring with them a vast network of heritage industry experts to each project. To us, the goal of an adviser is to provide timely solutions that answer both the artistic and historical accuracy goals of the production AND are cost- effective. Therefore a successful technical adviser must show he or she has knowledge and creativity, and is fiscally prudent. In addition this individual should be able to provide a selection of technical skills such as trainer, designer, and choreographer. Obviously being able to work in a team environment and show leadership is also fundamental.

Heritage Film Services is a collaboration of three key individuals who offer a wide variety of skills to any production. From their knowledge and interest, these three advisers bring an inspiring passion to every project. Their heritage industry reputations assist productions in filming at historic sites and securing the loan of various historic materiel such as ships and cannons. To fully understand the roles these advisers have played and can play in a production please see: Screen Credits and Contributions and Products and Services.

Robert Henderson


Background..... A former military curator for Canada's National Historic Sites, Robert has served both as an archival technician at the National Archives and has been an interpretative and educational specialist in Parks Canada. He has also authored several works on various historical subjects.

As owner of Access Heritage Inc (formerly The Discriminating General) for the past 19 years, Robert has developed a client base in the thousands and directed numerous international museum projects to completion. Managing budgets, developing products, marketing, advertising, and directing staff are some of his business responsibilities. Robert is part of a number of societies including the Society for Army Historical Research and Organization of Military Museums in Canada, and has been certified as a historic weapons supervisor.

Artistic Side.... Robert enjoys painting abstract works inspired by the style of Wassily Kandinsky.

"Kandinsky's idea of assigning a musical instrument sound to each colour, such as red being the sound of a trumpet and dark blue a cello, has always captured my imagination. Each of his paintings then became swirling orchestra-like musical compositions on canvas. To me, film making is one step further in composing 'visual music'. "

See an example of Robert's work by clicking here.

Skills.... historian, military trainer, historic weapons supervisor, battle choreographer, costume and props designer, extras casting director
---
Militaryheritage.com Sites:
French and Indian War Website The War of 1812 Website Napoleonic Wars Collection
Military Heritage Magazine The General's Arms Collection Music Sound Clip Gallery Home
---
Our Products and Services:

Our Mission and Clients Heritage Film Services Seven Years War Replicas American Rev Replicas Napoleonic Wars Replicas
French Nap. Headdress British Army Products,1793-1815 British Army Products, 1816-1856 Muskets and Pistols Military Buttons
Military Belt Plates Swords Sword Knots Military Drums Additional Products...
---

© Copyright 1995-2019: Unless otherwise noted, all information, images, data contained within this website is protected by copyright under international law. Any unauthorized use of material contained here is strictly forbidden. All rights reserved. Access Heritage Inc (formerly The Discriminating General) is in no way to be held accountable for the use of any content on this website. See Conditions of Use.