Share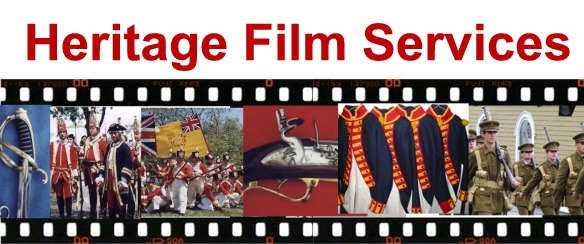 Screen Credits and Contributions Products and Services


provided the military costume, weapons, and equipment for the October 2014 Broadway production Amazing Grace: A New Musical
See it at the Nederlander Theatre in New York starting June 25, 2016
Screen Credits & Contributions
Feature Films:

Our company provided advice, and a number
of costume items and props including weapons to
Night at the Museum 2

Disney Pictures: Pirates of the Caribbean 3: At World's End (in production)

Disney Pictures: Pirates of the Caribbean 2: Dead Man's Chest (post-production)

Warner Bros. Pictures: The Phantom of the Opera - designed and produced principal uniform costumes and props for Bloomingdale's famous window display in New York that serviced in the promotion of the movie. The results were quite spectacular and images of our contributions graced the pages of a number of publications including Variety.

Disney Pictures: Pirates of the Caribbean: The Curse of the Black Pearl (starring Johnny Deep) -

Touchstone Pictures: Alamo - researched and constructed a number of costume and prop items for this famous 1836 story including hundreds of swords, bayonets and muskets, along with advising the props department on appropriate militaria for the time.

20th Century Fox: Master and Commander: Far Side of the World (starring Russell Crowe) - advised on costume, props, and other Art Department issues as well as researched and constructed a number of costume and prop items including weapons for this 1805 naval adventure.

Columbia Tristar: The Patriot (starring Mel Gibson) - assisted costume design including constructing military costume headdress and supplied costume materials.


Headdress for "The Patriot" made in Canada with Canadian Black Bear Fur

Joint Canada/France Production: La Veuve de St-Pierre

- historical research and consultation for this feature film which takes place in 1850.
Documentary and Docudrama presentations:

| | | |
| --- | --- | --- |
| | | |
| | | |
Galafilm: Quebec 1759 technical advisor for battle sequences and provided a portion of costumes and props.

History Channel (Cosgrove/Meurer Productions): George Washington the Warrior - technical advisor and historic consultant, costume and prop design, military training, and battle choreography. ln addition provided numerous heritage products such as muskets to this production. Filmed in Lithuania.

HBO (Tom Hanks (Braintree) Production): John Adams - assisting the Arts department and providing various historic weapon props to this multimillion dollar production.

Public Broadcasting Corporation: The War that Made America - researched, designed and constructed numerous principal and other costuming items as well as hundreds of prop and set decorating items for this multi-million documentary on the French and Indian War.

Columbia Tristar: The Crossing - award winning production -organized cannons, military props, historic military trainers, training of 200 extras as American Revolution soldiers, consultation. Interview with consult Robert Henderson featured in the Making of the Crossing

What the Production said: Staff at Militaryheritage.com "helped the producers make the leap from the historic text to realistic on-screen action.... down to the mannerisms particular to the time" - CBC

Canadian Broadcasting Corporation: Canada: A People's History (a multi-million dollar project that was the most watched non-sporting Canadian television production to date and winner of numerous awards including best documentary) - production's principal consultants and technical advisors. Mr. Henderson's role in the production is recounted in a book by the Executive Director Mark Starowicz entitled Making History. Our activity on this multi-episode production included:

"Adventurers and Mystics" (Explorers) Episode (1540 to 1670) - organized extras; supplied military costumes and props.

"Claiming the Wilderness" (New France 1670-1755) Episode - organized extras; trained extras in 17th Century French drill; provided military costume; consulted on historical accuracy; identified film location; historic recreation direction; choreographed battle scenes

"Battle for a Continent" (Seven Years War 1755-1763) Episode - researched and consulted on historical, naval and military content/accuracy; organized 120 extras skilled in using a musket; trained them in 1757 drill; choreographed battle scenes; performed role of military costume designers; organized military props such as cannons and flags; identified filming location; liaised with historic sites to provide props and film locations; provided weapons/ black powder safety supervision

"A Question of Loyalties" (American Revolution/War of 1812) Episode - choreographed battle scenes; military music; performed role of military costume designers; handled military props such as cannons and flags; consulted on issues of historical authenticity; black powder/ weapons safety supervision

"Rebellion and Reform" (1830s, 1840s) Episode- organized and trained 50 extras in British drill of the 1830s; choreographed battle scenes; arranged military music; military costume design; provided a number of military props (swords, flags, accoutrements, shakos); black powder/weapons safety supervision; liaised with historic sites to provide props and film locations
---
Militaryheritage.com Sites:
French and Indian War Website The War of 1812 Website Napoleonic Wars Collection
Military Heritage Magazine The General's Arms Collection Music Sound Clip Gallery Home
---
Our Products and Services:

Our Mission and Clients Heritage Film Services Seven Years War Replicas American Rev Replicas Napoleonic Wars Replicas
French Nap. Headdress British Army Products,1793-1815 British Army Products, 1816-1856 Muskets and Pistols Military Buttons
Military Belt Plates Swords Sword Knots Military Drums Additional Products...
---

© Copyright 1995-2019: Unless otherwise noted, all information, images, data contained within this website is protected by copyright under international law. Any unauthorized use of material contained here is strictly forbidden. All rights reserved. Access Heritage Inc (formerly The Discriminating General) is in no way to be held accountable for the use of any content on this website. See Conditions of Use.