Share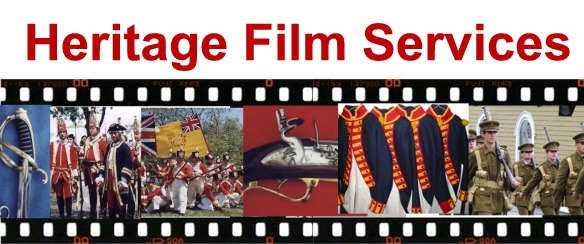 Our Team Screen Credits and Contributions Products and Services

Products & Services


1. Technical Advising and Consultation

A
s the general public becomes more aware of what looks historically correct and what doesn't, standards for authenticity in the film industry are growing considerably. Our extensive understanding of naval and military history, dress, living conditions, furniture, technology, music, drill and tactics, language, and habits makes us your best choice to answer this need.

Historians traditionally offer the who/what/when of events. We have taken this one step further to provide how events looked and sounded. This is an important distinction as too many film companies have relied strictly on historians to provide visual insight. For example, while an average historian may be able to tell you the number of times a person shaved a week in the 18th century , they may not know how they shaved. Another example is in military tactics an historian can tell you that a particular military movement was performed in a certain battle but they will not know how to re-create that movement. This is where our Heritage Film Services can best meet your needs.

In pre-production we have assisted in script review along with content and dialogue development, research, educating, budgeting, finding locations, assisting the Art Department, marine coordination, identifying/providing special skills extras and storyboard creation. Shortening the learning curve is key and that is what we do.

In production our skills have been focused in training principals and extras, supervising historic weapons use, choreographing action, and offering advice, suggestions, and identifying possible issues. Ensuring the smooth and timely flow of a historic re-creation is fundamental. A simple use of wording of command in military or naval drill can ensure extras or materiel are "on the mark" during the first take.

In post-production we have reviewed edits to insure historical continuity and accuracy. When sound issues have arisen we have provided solutions by pointing out pick-up sound recording opportunities at, for example, certain historic sites. Assisting the marketing of a production by, for example, organizing historic demonstrations is also one of our specialties.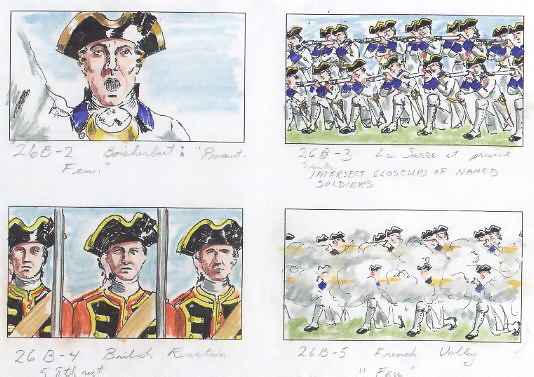 Story Board: Battle of the Plains of Abraham (Artist: Ron Ridley)

2. Training, Providing Special Skills Extras & Battle Choreography

We have extensive experience in organizing hundreds of extras trained in the use of muskets, cannons, fifes and drums, etc. Choreographing these extras in a battle scene is a very challenging enterprise. First and foremost is our concern for safety so that neither the film crew nor the extras are placed in a dangerous situation when handling black powder and edged weapons.

In order to move large numbers of extras quickly and efficiently to maximize shooting productivity, we have also in the past dressed in historic costume to control the extras from within the sequence. Recently we have worked on a number of computer composites in order to make a hundred extras look like thousands.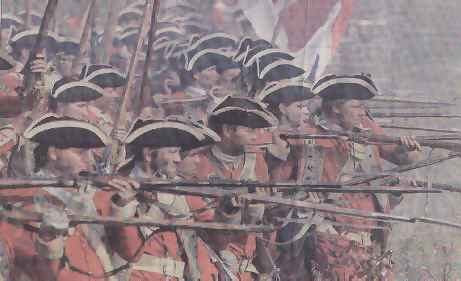 Organizing and Training of Special Skills Extras & Battle Choreography
(CBC- Seven Years War Episode)

3. Costumes and Props Services

W

e pride ourselves in providing items to Props, Costume, and Art Departments that are:
(1)historically correct and of excellent quality;
(2) cost-effective; and
(3) produced in a timely manner.
Being flexible in designing financial arrangements that best meet the needs of the production is key. Offering options and alternatives that address prop or costume difficulties is our specialty. In the past we have produced:
Military uniforms and historical civilian costume including footwear
Costume raw materials: wool cloth, lace, buttons, etc.
Costume Accessories: Epaulets, Sashes, Medals, etc.
Canteens, Powder horns, Ammunition Pouches
Swords, Bayonets, Pikes, Spears and Lances
Muskets, and Pistols
Helmets and Armour
Cannons and Equipment
Military Soldier and Officer's Tents
Military Trunks and Camp Furniture
Beds and Bedding
Lanterns, and other historic lighting devices
Cutlery, Tin Cups, and other Tableware
We are known for our ability to handle large-capacity orders, cost-effectively and quickly.
Our extensive research resources allow us to provide quick answers to Costume and Props professionals on issues of authenticity, pattern development, and construction details.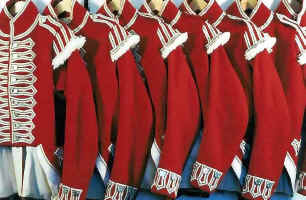 | | |
| --- | --- |
| Military pouches | Bayonets and scabbards |
| Heritage Footwear | Leather Collars and Clasps |
4. Research
We maintain a library of numerous works on military history, costumes, equipment, furnishings, music, art, social habits, dance, regulations, and military drill. To further support this, we have contract researchers in Great Britain, France, United States and Canada who will be pleased to find and copy any other required material for your projects. Our research focus is on the armies of Great Britain, France and the United States. Visit the rest of our website for a glimpse of our thoroughness and depth of our knowledge base.
---
Militaryheritage.com Sites:
French and Indian War Website The War of 1812 Website Napoleonic Wars Collection
Military Heritage Magazine The General's Arms Collection Music Sound Clip Gallery Home
---
Our Products and Services:

Our Mission and Clients Heritage Film Services Seven Years War Replicas American Rev Replicas Napoleonic Wars Replicas
French Nap. Headdress British Army Products,1793-1815 British Army Products, 1816-1856 Muskets and Pistols Military Buttons
Military Belt Plates Swords Sword Knots Military Drums Additional Products...
---

© Copyright 1995-2019: Unless otherwise noted, all information, images, data contained within this website is protected by copyright under international law. Any unauthorized use of material contained here is strictly forbidden. All rights reserved. Access Heritage Inc (formerly The Discriminating General) is in no way to be held accountable for the use of any content on this website. See Conditions of Use.