Our sites:
Home of
The Discriminating General
The Napoleonic Wars Collection
Military Music Sound Clip Gallery
---
Products and Services:
British Army Products 1793-1815
British Army Products 1816-1856
---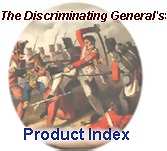 French Army Uniforms
These are some of the items we have recently made. However it is only the tip of the iceberg of all the items we have re-created for the French Army of the 18th and 19th centuries.
French Gorget (Hausse-cols) 49.50US (75.00CAN)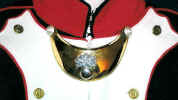 other patterns as well in production

French Infantry Habit 1806-1810 950.00US (995.00CAN)
French Infantry Habit-Veste -Bardin Regulations 1812
---

© Copyright 1995-2016: Unless otherwise noted, all information, images, data contained within this website is protected by copyright under international law. Any unauthorized use of material contained here is strictly forbidden. All rights reserved. The Discriminating General is in no way to be held accountable for the use of any content on this website. See Conditions of Use.